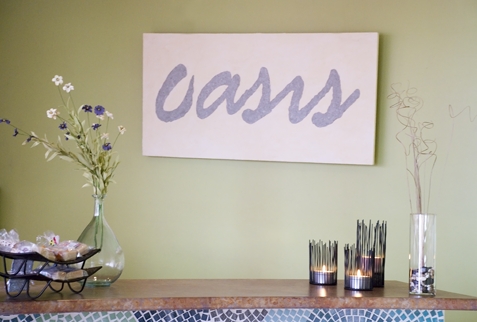 We're celebrating eight years of business today. And this year, we're really celebrating.
You see, this is the best year we've had so far. And we're just so stinkin' thankful.
Oasis co-owner and manager Lindsey Carper said, "It's like we've finally come into our own. With the hard work of all of the employees, the public has finally realized what a great little spa we are."
We're thrilled that we've had so many new clients come in. We're averaging about 200 new clients a month, compared to approximately 100/month last year.
In addition to all these new folks walking through our door, we've also had an increase of regular clients, which is a harder number for us to track. But we know we've had more because our staff has loved building these relationships.
These relationships are what drive our business. Lindsey has been away on maternity leave, and what she misses most is the interaction with both clients and the staff.
"What helps is knowing that the rest of the staff cares as much about our clients as I do," Lindsey said. "And I think that's why we've been so successful. Our experienced staff members are providing quality care and meeting real needs."
And, really, that's what it's all about for us. We've been working on a mission statement this past year. Here's the long version:
Oasis cares for our clients in the ways they most need it, from relieving major pain to providing much-needed stress relief.

We're not a ritzy spa. We're down-to-earth. The most important thing to us is our clients.

We love to cultivate relationships with our clients. Those who come on a regular basis help us to become better at what we do because we can develop the techniques that are working best; and the more regularly clients come, the better their individual needs will be met.

We continue to educate ourselves in order to better serve our clients and also educate them on how to better care for themselves between visits.

We're simple. We're a mid-range priced spa. We aren't charging you for our name, our décor, or our advertising. We're just charging you for the years of experience that have brought our service to this level of quality.
Thank you so much for supporting our business. It has been a joy to serve you these past eight years, and we look forward to continuing to bring you quality care.