We've been talking all things exfoliation this month – the why and the how.  And we've been subtly (okay, maybe NOT so subtly) reminding you that your at-home routine, is just as important as the professional services you get from us.
Today, we'd like to recommend products you can use to keep your skin fresh and bright in-between services.  At Oasis, we use and sell Bioelements products - a natural and enivronmentally friendly product line that doesn't use unnecessary fillers like artificial colorants, synthetic fragrance or parabens. And they don't test their products on animals.
Bioelements Amino Mask is a gentle (yet effective) fragrance free product. You can apply it all over
to prevent  a breakout, or use it as a healing spot treatment post breakout. We love the versatility of this mask.  You can use it once a week, or as needed.
The sulfur formula penetrates pores, removes excess oils and reduces acne pimples, while an exfoliating lactic acid removes dulling dead cells to keep skin smooth and clear.  Most acne treatments address the surface needs of the skin but these two ingredients work together to target those deep painful blemishes that never come to a full head.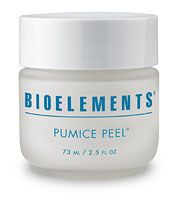 Bioelements Pumice Peel uses ultra-fine pumice crystals made from lava rocks to buff away dead skin cells and get at those pesky lines and wrinkles.  You can use this product as a quick scrub in the shower or leave it on a little longer and it becomes a mask.  The crystals are engineered to be smooth and spherical so they won't break or tear the skin like over-the-counter scrubs.
The pumice crystals not only remove dead skin cells and unclog pores, but also penetrate the skin with emollients, ginseng extracts and antioxidants to soothe and hydrate.
Bioelements Measured Micrograins   can be used for all skin types, but is the ideal exfol

iator for sensitive skin.  This dual scrub/mask product uses naturally spherical and mellow jojoba beads to control excess oil, reduce the appearance of pores and strengthen skin.
Bonus – this product also contains plant extracts and essential oils that leave your skin feeling refreshed and cool.
Because Bioelements is a professional-grade product line, it can pack a powerful punch - a little dab will do ya.  Use a small amount, like the size of a small berry.  If you are using more than that, talk to your esthetician.  You may be using the wrong product!
Exfoliation is just one step in a successful at home skin care routine.  You should always
Cleanse every morning and evening
Moisturize every morning and evening
Sun protect every morning
Exfoliate at least once per week
To see long-term results, you've got to develop long-term habits.  You and your skin are worth a little time and effort.
Next time, we'll tell you about our lactic acid peel and have a special offer for you.