Hey guys! My name is Cherise Obermeyer. I am one of the estheticians here at Oasis Massage and Spa. Winter makes us want to curl up with a warm blanket and hot cocoa and be super lazy, am I right? We just need to remember not to get lazy with our skin care. Here are some tips and some products we like to keep up your skincare routine in between the snow ball fights and scraping the ice off of your car.
Cleansing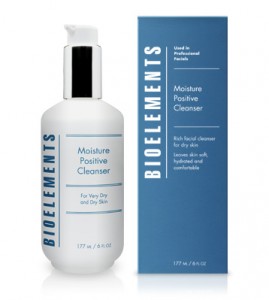 Cleansing, as always, is very important. It removes all the dirt, makeup, and impurities from your skin. Winter weather wreaks havoc on our bodies. Humidity is low, and dry skin becomes a problem. All of those dry skin cells can clog your pores and cause that "winter itch"… So cleanse away, just not too much. Over-cleansing will remove the skin's natural moisturizers.
Bioelements has a great cleanser to help battle winter, called Moisture Positive. It's a gentle and creamy cleanser that leaves your skin soft and comfortable. The perfect addition to your skincare regimen!
Exfoliation
Exfoliation is a step that a lot of people tend to skip or forget. This step will remove the dead, dull skin cells and help to rejuvenate your skin. There are a couple of types of exfoliation. You may choose to use a chemical exfoliant, which is made up of ingredients like Glycolic Acid, AHA, and BHA, and enzymes such as Pumpkin, Papaya, and Pineapple. These powerful ingredients help to loosen up the glue-like substance that holds dead cells to your skin's surface and leave your skin soft, smooth, and bright.
Or maybe you like to do the work. In that case, you would want to try a physical exfoliation, where the dead skin cells are physically rubbed off. These exfoliants include sugar, salt, and oatmeal, among other ingredients, and can involve the use of facial brushes, sponges, or gloves.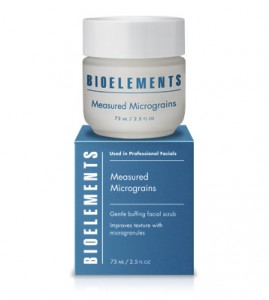 Exfoliation should leave your skin radiant and healthy-looking, not red and irritated. Exfoliate in moderation — 1-2 times per week is enough, depending on your sensitivity and the type of product you are using. Most products will have instructions helping you along the way. When in doubt, talk to an esthetician or pay a visit to your dermatologist.
Bioelements Measured Micrograins gently buffs away dulling surface flakes and smooths out the appearance of fine lines and wrinkles. It is made up of extremely fine microgranules that you can use it up to three times per week.
Moisturize
"Do I need to change moisturizer in the winter?" This is a very common question that I have been hearing quite a bit recently. The answer is different for everyone. If you notice that your skin is flaky and tight, you may want to alternate moisturizers or switch altogether for the colder months. Using a moisturizer for dry skin when your skin is feeling dry and uncomfortable is a great idea. Keeping your skin moisturized and hydrated is crucial. Make sure you are moisturizing twice daily.
Sunscreen
SPF is required! The snow bounces 80% of the sun's rays back to us. So think twice before skipping this step during the cold, winter months. Use an SPF of 30 or higher and reapply every few hours if you're outside a lot.
Thanks for sticking with me! I know that skin care isn't the most riveting subject, but we all know it's an important one. Winter isn't over yet! (As much as we want it to be.) So keep up the good work and come see Amber or myself for a facial soon. We have all kinds of tricks to keep your skin beautiful when the weather may not be. And Oasis carries Bioelements products, if you need to stock up!
Peace, love, and glitter.
Cherise