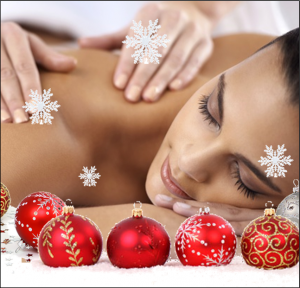 Tis' the season that brings joy and laughter, but it can also bring a heavy dose of stress.
This time of giving is a good time to remember that "you can't pour from an empty cup". During the holidays, stress rises and budgets tighten as we look to purchase the perfect gifts for our friends and family, prepare our favorite treats, or plan holiday travel. We can be tempted to put our health and wellness on the back burner during the holidays. However, this time of year it is especially important to add to your selfcare regimen. Massage is one of the best ways to take a minute for yourself.
Massage is seen by most as a luxury; in reality, it has major positive effects on our stress level and improves our everyday health and wellness.  In this stressful time, we tend to make a mountain out of a mole hill. When we make time to care for ourselves, it becomes easier to tackle challenges that present themselves.
What better way to show your loved ones you care than investing in your health and protecting the holiday spirit from stress? Massage is a no-brainer. The better you feel, the better job you can do of caring for yourself and your loved ones during this busy holiday season and for many years to come.
Why you need a massage now:

* Reduce anxiety
* Reduce the flow of stress hormones
* Improve sleep
* Boost the immune system
* Improve energy levels and reduce fatigue
* Improve concentration
* Increase circulation
* Improve self-esteem
* Reduce frequency of headaches
* Release endorphins

It's time to remember that your health has to remain a top priority and massage therapy can help improve your state-of-mind and maintain a healthier lifestyle. You deserve to take a moment and take care of yourself. The health benefits from massage can help at home, at work, and proactively long term. At Oasis Massage and Spa we offer a wide variety of services to help you find that balance this time of year, so call 402.964.2267, book an appointment online here, or purchase an online gift certificate for that perfect gift for your loved ones.